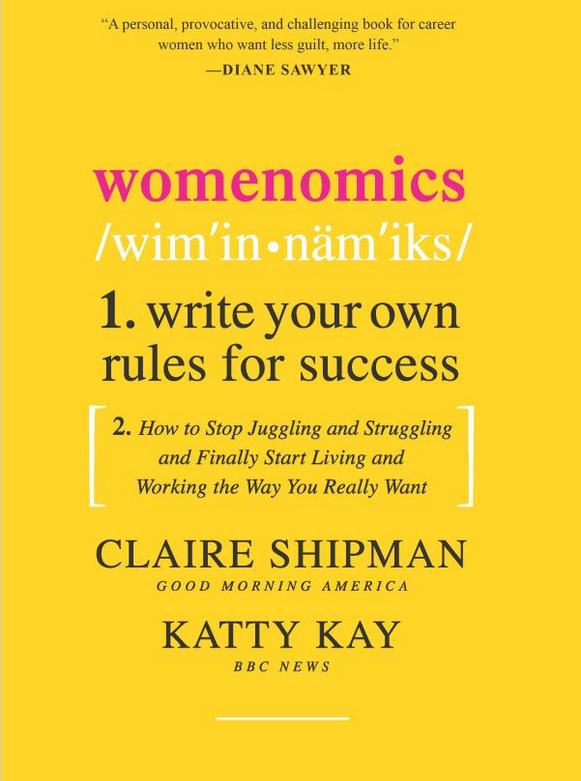 Feminism Reconsiders Motherhood
Womenomics
Write Your Own Rules for Success
Claire Shipman and Katty Kay
HarperBusiness, 2009; 256 pages, $27.99
Some time after Rosie the riveter helped in the World War Two effort, the percentage of women working outside the home doubled and women made their way into the front offices. According to an April 1996 essay in The Economist, "Women and the World Economy: A Guide to Womenomics," two-thirds of today's women work in paid jobs outside the home; almost half of the American workforce consists of women—more than in any other country; and women produce just under 40 percent of the official GDP of developed economies. Indeed, the magazine contends that women are the "most powerful engine of global growth." A strategy report of Goldman Sachs, "Women-omics: Buy the Female Economy," seems to agree. It pointed out in 1999 that cell phones, the Internet, PCs, minicars, condominiums and luxury goods were all "pockets (or purses) of strength that have largely been supported by female demand." The report claimed that "future potential economic growth will depend on increased female labor participation."
Whether their new economic cloud sits well with American women is not all that clear. According to Marcia G. Yerman on the Huffington Post last September, 87 percent of women who work outside the home admitted that they wanted more "equilibrium between the competing areas of their lives." More significant, two accomplished journalists—Claire Shipman, ABC News' Good Morning America senior national correspondent, and Katty Kay, BBC World News America Washington correspondent—suggest that the changed economic landscape may be a two-edged sword, especially for the "educated, relatively high-earning career women" to whom they are writing. In Womenomics: Write Your Own Rules for Success, they call for a "more sane" workplace while describing a paradigm shift that, they postulate, increases the value of women in the workplace. At the same time, they appeal for a change in the priorities of American career women so that they can quit, according to a review in the New York Post, "juggling and struggling," and find balance in their personal and professional lives.
A shift in these women's priorities, according to the authors, couldn't be better timed—when "brains count a lot more than brawn." Enlightened businesses have learned the value of female employees and are much more accommodating to flexible time, part time, or reduced responsibilities. Shipman and Kay present a wealth of information—what they called "facts, not stereotypes"—showing the value of the female perspective in management. Women, they argue, account for more than half of the educated workforce; they control 83 percent of consumer spending. Consequently, understanding her worth as a female worker leads to confidence and, according to Shipman and Kay, power. A nearly twenty-year Pepperdine University survey of more than two hundred Fortune-500 companies found that the companies with the best record of promoting women outperformed their competition in "every measure of profitability"—equity (by 116 percent), revenue (by 46 percent), and assets (by 41 percent). The two journalists therefore tell their career women peers that they don't have "to do it all to have it all." Instead, they encourage this select group of American women to redefine success to include their personal lives and to learn to say no to any request that takes away from family life.
This is not the advice that readers might expect from two high-profile career women. Feminists have argued for years that women should jump onto the fast track and aim as high as possible. Problem was, when those women had children, everything changed; even Ivy-League graduates started re-evaluating their priorities and tried to figure out ways to stay home with their little darlings. Feminists were appalled to see these upwardly mobile young women choose motherhood at the expense of career advancement. Now, a new generation is hearing that it is not an either-or proposition; female careerists are hearing that they can shape the job market to fit their priorities. They can reject the "mommy wars" and "opting out." As the authors relate in a 2009 interview on Salon, their book urges these high-status career women "to say no to 60-plus-hour weeks and overly demanding jobs" and "to use their clout in the workplace to demand fewer hours at the office, turn down non-family-friendly assignments, and take control of their time by working from home more, checking email less and avoiding meetings whenever possible."
Shipman and Kay argue that career women should adjust their aspirations to aim for what they call the "New All"—enough professional success to feel challenged and fulfilled along with enough personal time to devote to family. "Time," they believe, is the "new currency" for career women—in other words, that most women will sacrifice a promotion for greater freedom. They report that 34 percent of the top one-hundred women in the ten top-tier companies deliberately scaled back their career goals because they were not willing to sacrifice their personal lives. Still, in a recent interview, Shipman said one employer told her that "nobody is more efficient than working mothers; they get the job done."
A 2008 report from the New York-based Family and Work Institute indicates that nearly 40 percent of men and women indicated no desire for greater work responsibility for various reasons: 31 percent were worried about "increased job pressure;" 19 percent were "satisfied with their current job responsibilities;" and 15 percent wanted "flexibility to successfully manage work and personal or family life." To exercise greater control over their priorities, American women started up their own businesses almost five times more than women in other developed nations. Shipman and Kay offered these statistics to buttress their thesis:
63 percent of American women who work outside the home believe they don't have enough time for their spouses or partners;
74 percent of them are convinced that they don't have enough time for their children;
35 percent of them are spending significant time caring for an elderly relative;
Half of them want fewer hours working outside the home;
Half of them want to change their schedules;
More than half of them would trade money for a day off; and
Three-quarters of them want flexible work options.
What is striking about Womenomics is its basically pro-motherhood message. The authors disagree with Paul Samuelson's quip that "women are just men with less money." They argue that women have different priorities than men and they eschew the liberal solutions—more daycare, increased husband's child rearing involvement, and help around the house—instead, they write, "We know the solution isn't longer hours at daycare or hiring more babysitters or asking our husbands to stay home, because we're the ones who want more time—for our children, our parents, our communities, ourselves."
This neo-feminist trend may not be a fad. A forthcoming Wiley book, How Women Mean Business: A Step-by-Step Guide to Profiting from Gender Balanced Business, argues that business needs to capitalize on the "rise of women as the majority of talent and majority of consumers influencing purchasing decisions." By Avivah Wittenberg-Cox, the book builds on the thesis stated on the first page of Womenomics that "women will never fulfill their potential if they play by men's rules." By encouraging career women to bow to the demands of motherhood and feminine priorities, both books bear some resemblance to conservative positions about women. Absent are the laments about the "wage gap" being a "baby gap" and complaints about children lowering a woman's earnings. Instead, the authors of Womenomics quote Kathleen E. Christensen of the Alfred P. Sloan Foundation identifying a woman's role as the family's "meaning maker"—as mothers are the ones who "cultivate and sustain the rituals in the family."
Not surprisingly, the leftist elite finds these new arguments to be a more palatable reformulation of the appeal to "family values." Indeed, these new trends—by moving beyond the old feminist idea of "women as victims" that the majority of American women never bought—might usher in a new era of understanding and appreciation among the class of educated career women victimized by feminism for the relative importance of women's unique roles in life.
Dr. Crouse is the director of, and senior fellow at, the Beverly LaHaye Institute, the research arm of Concerned Women for America, in Washington, D.C.
Categories: