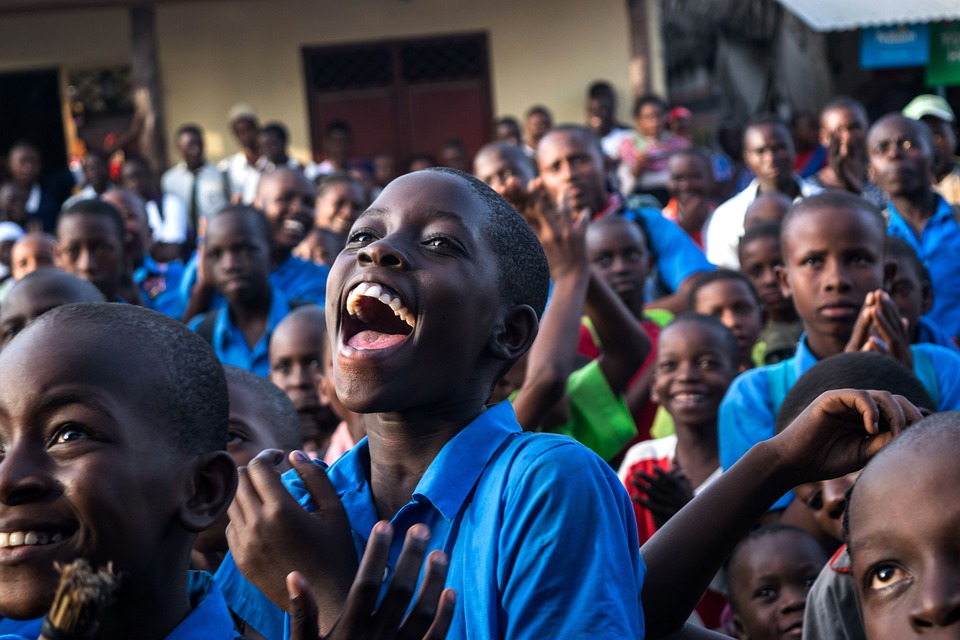 Babies, Education and Choice in Africa
October 30, 2018
The Topic: Babies, Education and Choice in Africa
The News Story: Mothers of Big Families Challenge Macron's Fertility Stance
The New Research: The Contraceptive Mindset Invades the Gambia
"French President Emmanuel Macron is facing criticism from mothers with big families both at home and abroad for comments he made about women and fertility in Africa," reports the AP.
At a speech Macron made for a Gates Foundation event, the French president claimed that a "critical issue for African's population is that women and girls aren't able choose whether or not to have children — and linked it to a lack of education." Macron continued, "Please present me the lady who decided, being perfectly educated, to have seven, eight, nine children." Many, many educated women worldwide took to Twitter to protest, coupling the hashtag #postcardsforMacron with pictures of their large families.
Research from at least one African nation would suggest that one reason some of these women have more children are rather shocking, or would be to the mind of Macron—they want them.
(Source: Associated Press, "Mothers of Big Families Challenge Macron's Fertility Stance," October 18, 2018.)
The New Research: Mothers Wanting Too Many Babies in the Gambia
As champions of the feminist cause, progressives tirelessly insist that they want to expand the range of choice open to women around the globe. But a new study out of the Gambia in West Africa manifests more than a little progressive discomfort with one kind of female choice: that of bearing and rearing a large family.
Conducted by researchers at the University of The Gambia, this new study focuses on "grand multiparity," the obstetric phenomenon manifest when a woman has "carried five or more pregnancies to the age of viability." The Gambian researchers note that "grand multiparity is still quite common in The Gambia," where the Total Fertility Rate stands at 5.6 births per woman. The researchers are studying a phenomenon they regard as a problem. "High parity," the authors of the new study remark, "is . . . still a common problem in obstetric practice in many developing countries [such as the Gambia]."
To better understand the persistence of grand multiparity in their country, the Gambian scholars examine data collected from 514 mothers visiting Edward Francis Small Teaching Hospital (the Gambia's only tertiary health facility) for prenatal care. Of these 514 mothers, 136 (26.5%) were grand multiparous mothers expecting a fifth or subsequent child. When the researcher asked them why they were pregnant with this child, these mothers most commonly replied that they simply wanted more children. As the researchers report, "The most common reason given for the current pregnancy among the grand multiparous was a desire for more children." What is more, these mothers are not having large families in ignorance of contraceptive options. The researchers conclude that "97.1 % of [their] study participants were aware of the availability of contraception. In fact, 56.6 % of these mothers had been counseled regarding availability, accessibility and various options available for contraception in the hospital before discharge in their previous pregnancy. Therefore, inability to use contraception to prevent the occurrence of [the latest] pregnancy was not due to lack of contraception or accessibility."
The Gambian researchers recognize the imprudence of openly impugning the desires of Gambian women who say they wanted their latest pregnancy. But in identifying "high parity" as itself a problem, they unmistakably indicate that these women are also targets in their plans to spread the contraceptive mindset. Even though the number-one reason that Gambian women become grand multiparous mothers is simply that they want many children—regardless of the availability of contraceptives—the Gambian researchers see in the high number of such mothers an indicator "of low literacy, poverty and other forms of injustice and inequity faced by women in the developing world." No wonder, then, that they envision a nationwide cultural change that will reduce the number of such mothers by sharply increasing contraceptive use. To effect that change in "a religious country" like Gambia, one of "patriarchal nature," they believe that advocates of contraception "need to develop family planning messages that specifically target men and religious leaders" in order to "get women to practice contraception."
In their repeated use of the verb target, the authors reveal much about their aggressive cultural intent. A verb that may carry unpleasant connotations for West Africans, target typically means aligning a weapon for firing against foe or prey—often with lethal effect. Just as soldiers from imperial powers once targeted Africa's native tribesmen and big-game hunters on safari once targeted the continent's lions and rhinos, the advocates of contraception now have targeted a Gambian society that they find unacceptably different from the contraceptive-friendly, low-fertility societies of Europe and North America. To the degree that these crusaders for contraception do discharge their cultural weapon, Gambian society as it now exists will live no more—and many of the baby Gambians who might have been born will never see the light of day. These crusaders may then congratulate themselves on having solved the problem of large Gambian families.
(Source: Bryce Christensen and Nicole King, "New Research," The Natural Family 31.1 (2017). Study: Patrick Idoko, Glenda Nkeng, and Matthew Anyawu, "Reasons for Current Pregnancy amongst Grand Multiparous Gambian Women—A Cross-Sectional Survey," BMC Pregnancy Childbirth 16 [2016]: 217. Web)
Categories: